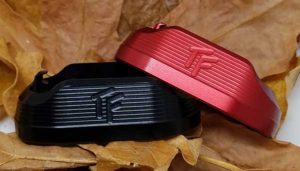 Our new HK Overdrive Magwells are now in stock. Totally new, the HK VP 9/40 version of our "Overdrive" magwell optimizes what you want in a competition-style magazine funnel:
*Legal for all the pistol games that allow magwells (1 5/8″ wide at widest point)
*Milled from 6061 aluminum billet
*Accepts factory magazines
*Textured for "grippiness" where you want it, smooth where you don't
*Maximized funnel area
*Available in bright aluminum, black-, or red-anodize
Check them out in our store… http://taylorfreelance.com/shopping/index.php?main_page=product_info&cPath=13&products_id=239 
Web Guy Note: Specify black or red when ordering.
New video showing how easy it is to install a Taylor Freelance Magwell on to your Walther PPQ.