ULTIMATE FIREPOWER
Taylor Freelance Magazine Extensions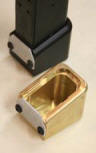 Shooting great Rob Leatham once said that when it comes to ammunition, there isn't a situation where you wouldn't rather have more.
What started with a passion for racing Glock handguns in USPSA competition has grown into a business offering purpose-built magazine extensions for Glocks, S&W M&Ps, Springfield XDMs, Tanfoglios, and even the HK P30! Adding capacity for competitive shooters was our original focus, but now we equip shooters of every spectrum, including various law enforcement organizations. (The HKP30 "Border Special" began as a request from a Border Patrol tactical operations command in the American Southwest.)
Tactical and law enforcement shooters can't overlook the merits of five or six extra rounds, and we offer one of the sleekest, strongest, and most-secure designs available.  The HKP30 "Border Special" takes that focus on security to a new level, adding vibration-resistant screws to the original high-security design.
Want more ammo? There's nothing quite like picking up a 20-ROUND Glock 22 magazine. That much ammo in one place seems almost unfair.
170mm +8/10 Extensions
The Glock and M&P pistol's high magazine capacity has always been one of its strengths. Taylor Freelance 170mm extensions expand that capacity by a minimum of 8 rounds. Originally designed for USPSA/IPSC competitors, the +8 Floorplate extends the magazine to the 170mm overall length allowed in international Open Division competition.
With USPSA now allowing 9mm Luger at "major" power factor, Glocks have become more competitive than ever. KC Eusebio very nearly won the USPSA Open Nationals with a Glock.
If you're looking at running an "Open" Glock or S&W M&P (a.k.a. top fuel, full-race, custom. . .) you've got to give these things a try.
You don't compete? Each floorplate comes with a custom-wound Wolff or ISMI spring. You may have heard of the famed Wolff "+10%" springs. We used those for years before upgrading to even stronger spring wire in 2010.
Taylor Freelance 140mm (+5) floorplates expand your high-capacity magazines' capacity without making the magazine too large to handle or hide. Depending on various factors (there are more than 10 followers and half a dozen mag tube styles), you should expect a minimum of four rounds worth of increase, and usually five. That's 20+1 rounds of .40 S&W in a Glock 22 or 24. Expect to get six more rounds (23+1) into a 9mm Glock 17. For competitors, that's an edge they can't do without.
Why Buy From Us?
You can buy cheaper equipment, but superior design, quality, and materials, make our floorplates one of the most reliable on the market. Here's why:
1.Design:
Fort Knox Retainer — our famous locking plate holds the floorplate on NO MATTER WHAT. No more "speed-unloads" from all-polymer parts popping off when dropped. (That's why Glock stopped making theirs, and law enforcement agencies around the nation have dropped them from their arsenals.)
Our designs offer greater capacity by design as well. The Glock +2, and some others made here in the U.S. work fairly well for competition (they still come off when abused) but their design limits them to a maximum of two, maybe three rounds of extra capacity. It's a long story, but without a major rework, the only place you're going to get more than +3 is through us, or through comparable products now being made by our several competitors. (We were the first to offer extended floorplates for the Glock, and were the only ones to offer floorplates for the original non-full-metal-lined a.k.a."non-drop-free" mags.)
Worst of all, most of the extended floorplates on the market are "one size fits all" units. There is a big difference between the two major styles, and that's part of why the competiton's gear comes off so often. There are many types of magazines
Our floorplates use the stock follower, are impervious to most all gun cleaners, use truly custom Wolff springs (even stronger than their famed "+10%" springs), and are as simple as simple gets. In the end, we think you'll end up here.
2. Materials:
Our floorplates for the Glock are CNC machined from Delrin 150 — a non-marring super-strength homopolymer used in aerospace applications. Dimensional Delrin is approximately four times more expensive than aluminum per square foot, but the performance payoff is worth it. All our other floorplates are CNC machined from either aluminum bar stock, or "half-hard machinable" brass.
Compare our materials to the injection-molded plastic or (in the case of the Glock) mag-damaging aluminum used elsewhere, and you'll LOVE Taylor Freelance products.
Thanks for dropping by,
Robin Taylor, Taylor Freelance
Instructions for installing "Fort Knox Retainer"
IMPORTANT LEGAL STUFF: Most of our extensions are NOT for use on Glock 9 or 10 round magazines. In some areas, mounting extensions on 9 or 10-round magazine to create an 11-round (or larger) magazine is a violation of law. Similarly, Colorado residents may run into legal problems if they create a finished magazine with capacity larger than 15 rounds. We encourage all our customers to seek competent legal advice on this subject.