These beautiful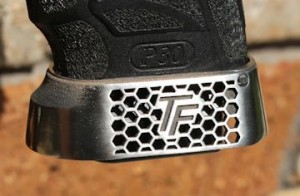 spiderweb magwells aren't machinable at anything like an affordable price. Instead, we had them 3D printed in stainless/bronze matrix. The material offers much of the toughness of steel, with the beauty and color of bronze.
We polished the exteriors to maximize the "white gold" look of the bronze, but left the interiors and the pinky cut-out "as printed" to give the hand a little extra grip, and keep the price down. Fits the P30 line except the P30SK. Some minor fitting of the replaceable plastic backstrap may be required.
The technology of 3D printing in metals is very new, and (like all 3d printing) tends to be quirky. It took several months for the printing company to deliver these, and we're still unsure if they'll be able to deliver more. Suffice it to say, if you're interested in a beautiful magwell like this, get yours now!